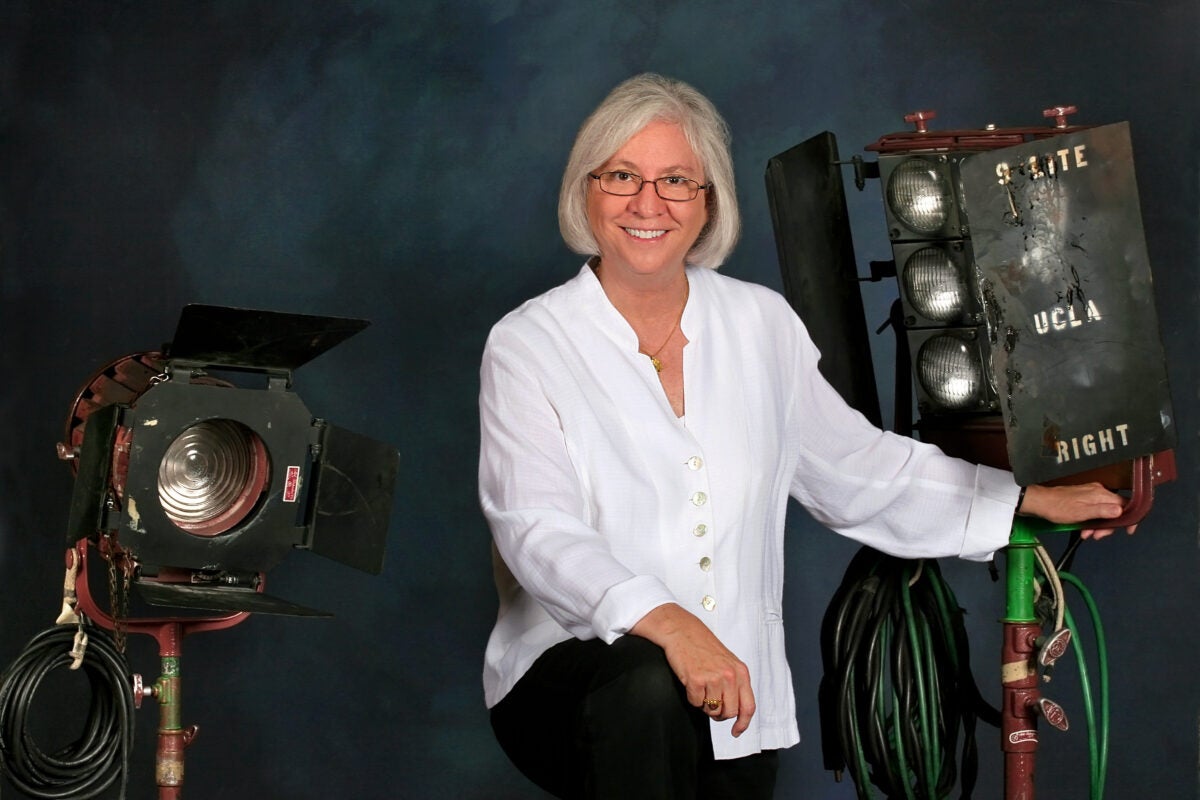 Teri Schwartz
Professor
Teri Schwartz served as the Dean of the UCLA School of Theater, Film and Television (UCLA TFT) from 2009-2019. She was the first woman dean of UCLA TFT.
In 2009, Schwartz launched a groundbreaking new vision for UCLA TFT — a deep belief in the power of story to not only delight and entertain, but to enlighten, engage and inspire change for a better world. As dean, she called the UCLA TFT community to action to re-imagine entertainment and performing arts education as an interdisciplinary enterprise, one grounded in humanistic storytelling, diversity/global diversity, social impact, and technology and innovation.
Schwartz put her unique vision into motion through new innovative programs, initiatives and curricula that tore down the silos across disciplines to bring film, theater, television, digital media and animation into a collaborative new direction for the 21st century. She cultivated important, high-impact industry partnerships and alliances with major film studios, broadcast television and cable networks, and digital streaming services; strengthened and energized UCLA TFT's highly successful alumni network and greatly expanded its Executive Board; fostered key initiatives for social impact with industry alliances; launched new cutting-edge research programs at the intersection of story, performance and digital platforms with partners such as Cirque du Soleil, Disney Imagineering, YouTube and Google; placed diversity as a centerpiece for her work including the recruitment of a new generation of outstanding, diverse faculty for both departments and the recruitment and retention of exceptional diverse students in all disciplines at the undergraduate and graduate levels; launched new programs for diversity such as the Summer Creative Workshop, an immersive writing program for at-risk high school students of color; the NAACP Internship Program with AMC Networks; and funded and supported ELEVATE, the first student of color organization in the history of UCLA TFT. She greatly expanded the School's global reach with new partnerships in Europe, the Middle East, India, China, Korea and South America.
Schwartz launched programs for new full-ride and partial-ride scholarships to give voice to the unique perspective of Arab, Indian, African American and Latinx women; secured important paid fellowships, key internships, and new mentoring and festival strategy programs for all UCLA TFT students including the Telluride Film/Lab Program, CinemaCon Program and the Avignon Theater Festival Global Theater Lab. In 2014, she created and launched the Skoll Center for Social Impact Entertainment at UCLA TFT, the first university center of its kind in the world, made possible by a $10 million gift by visionary philanthropist Jeff Skoll, in support of the power of entertainment and performing arts to inspire social change. In addition, Schwartz created the First Look Sony/Crackle Screenwriting Program and the Storytelling Institute, a unique first-look graduate feature film screenwriting institute in Cannes, France in partnership with the Universite Cote D'Azur, the Mayor/City of Cannes, the CEO Vivendi/Canal+ and the president of the Cannes Film Festival; and created the Hearst Foundation Theater Lab Playwriting Initiative with its first Distinguished Visiting Artist, Pulitzer Prize winning playwright, Paula Vogel, in residence at UCLA TFT in academic year 2018-19.
Schwartz led UCLA TFT's Centennial Campaign to ensure the School's long-range success under the banner Creating What's Next, raising more than $100 million for the School. To close out her 10 years as dean, Schwartz secured two final transformational gifts for the School: A $20 million gift for scholarships for diversity and ethical leadership for UCLA TFT students at all levels as well as support for the UCLA Film & Television Archive; and a $10 million commitment to remodel the Freud Playhouse.
Prior to joining UCLA TFT, Schwartz successfully served from 2003 to 2009 as the founding dean of the Loyola Marymount University School of Film and Television in Los Angeles.
Her dedication to excellence is tireless and her accomplishments span an illustrious career. An award-winning feature film producer, Schwartz' many films, which include Beaches and Sister Act, have garnered nominations for Academy, Golden Globe, Emmy, Grammy, MTV and CLIO awards. She is a member of the Producers Guild of America; Directors Guild of America; the Academy of Television Arts and Sciences; the UCLA TFT/UCA Storytelling Institute in Cannes Advisory Board; and the Hawn Foundation Board of Directors. She also serves on the NAACP Entertainment Industry Board of Advisors; Creative Visions Board of Directors; the Board of Trustees of the Swarovski Foundation; and served at the invitation of the Kellogg Foundation on its National Task Force for Diversity and Inclusion. In 2017, Schwartz was appointed by the UC Board of Regents to serve on the Board of Trustees of the California State Summer School for the Arts, and currently serves on its Foundation Board of Directors.
Schwartz has served on numerous panels and festival juries including the Palm Springs International Film Festival; the Palm Springs International Shortfest; Book to Screen; Variety's The Future of Digital Media Summit; the Monte Carlo International Television Festival; the Summit at Sea Conference; the Salzburg Festival, in Salzburg, Austria, where she discussed social change for the empowerment of women; and the U.S.-China Film and Television Summit, where she was also a keynote speaker. She has been a keynote speaker at MIPTV, Cannes, France; the Skoll World Forum, Oxford, UK; the FICCI Frames International Media Conference, Mumbai, India; the Alexandrinsky Theatre Festival, St. Petersburg, Russia; and at Yonsei University in Seoul, South Korea, among many others. In 2018 and 2019, she gave remarks at the SPARK Summit on Social Impact Entertainment in Los Angeles. In 2019, she moderated a unique panel on stereotypes in the entertainment industry at The Wrap's 2019 Power of Women Summit. In 2021, she served on virtual panels for the Swarovski Foundation "In Conversations" series and the EEI Creative Arts "Next Generation of Visual Storytellers Conference."
Along with Nadja Swarovski of the Swarovski crystal company, Schwartz produced the feature documentary Waterschool, which focuses on how water education has transformed and empowered the lives of six girls and young women living in underserved communities along the major rivers of the world. She served on panels around the world discussing the film, including the Salzburg Festival; the World Economic Forum in Davos, Switzerland; the Sundance Film Festival in Park City, Utah; the Cannes Film Festival, in Cannes, France; and at the United Nations. Waterschool is currently streaming on Netflix in 193 countries and translated into 26 languages.
As a film and television producer, Schwartz has had a far-ranging career working with many industry luminaries, both in front of and behind the camera. Currently, Schwartz has a major dramatic series in active development and she is one of the producers of the new feature documentary, Francesco. The film had its world premiere at the Rome International Film Festival in October 2020 where its director received special honors. Francesco will have its worldwide launch on DISCOVERY+ on Easter Sunday 2021 as part of the Discovery Channel's new digital streaming platform, which will reach millions of viewers worldwide.
Schwartz is the 2018 recipient of the UCLA Community School Bruin Partnership Award for Service and Dedication and the 2015 recipient of the CayFilm Cayman International Film Festival's inaugural award for Outstanding Achievement in Film Producing. In 2013, she received the 2013 American Spirit Award from the Caucus for Producers, Writers & Directors for her special achievement in educating new filmmakers; and in 2012, she was honored as Variety's 2012 Media Mentor of the Year.
A native of Los Angeles, Schwartz graduated magna cum laude, Phi Beta Kappa in English literature from UCLA in 1971 and received her M.A. in film from the University of London, 1973.