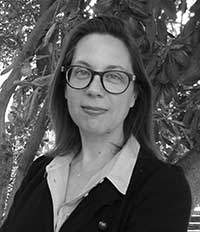 Liza Johnson
Adjunct Professor
Liza Johnson is a writer and director who teaches directing in the Department of Film, Television and Digital Media. Her films have screened at the Cannes Film Festival, New York Film Festival, Berlin International Film Festival and Toronto International Film Festival and are in the permanent collection of the Museum of Modern Art in New York City.
Johnson wrote and directed the film Return (2011), a drama about a woman returning from her military deployment, starring Linda Cardellini and Michael Shannon. Her film Hateship Loveship (2013) was an adaptation of Alice Munro's story Hateship, Friendship, Courtship, Loveship, Marriage, which she directed from a screenplay written by Mark Jude Poirer. The film starred Kristen Wiig in her first dramatic lead. She also directed the satiric comedy Elvis and Nixon (2016), starring Michael Shannon and Kevin Spacey, from a screenplay written by Cary Elwes, Hanala Segal and Joey Segal.
Additionally, Johnson has created many short films and video installations, often working with nonprofessional actors in specific social environments. These include the films South of Ten, In the Air and Karrabing: Low Tide Turning, which she co-directed with Elizabeth Povinelli.
For television, she recently directed episodes of HBO's Silicon Valley (2019) and Barry (2019). She previously directed an episode of Ryan Murphy's Feud (2017) and the Amazon series Good Girls Revolt (2016).
Johnson has been a fellow of the DAAD Berlin Kunstlerprogramm and the Sundance Institute, and has been recipient the Wexner Center for the Arts Residency Award and the De Cordova Museum's Rappaport Prize.
She holds a B.A. from Williams College and an M.F.A. from UC San Diego.