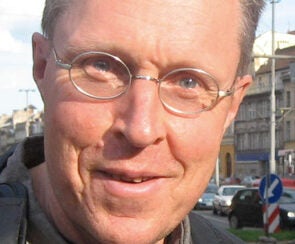 Erkki Huhtamo
Professor
Erkki Huhtamo is an internationally renowned media historian and theorist, and also a specialist in the history and aesthetics of media arts. He is one of the founders of an emerging approach to media studies known as media archaeology.
Huhtamo has published extensively, lectured worldwide and given multimedia stage performances using both modern and original 19th-century media technology such as magic lanterns. With the artists Golan Levin and Zachary Lieberman, in 2005 he developed and performed Musings on Hands: Media Archaeology Meets New Media Performance at Waseda University's Ono Memorial Hall in Tokyo, Japan and at the Ars Electronica Festival in Linz, Austria the following year. His most recent magic lantern show, From Dole to the Pole, or Professor Huhtamo's Daring Adventures, featuring musicians and foley sound effect artists, was performed at Los Angeles' Velaslavasay Panorama cultural center in 2012. The multimedia performance Mareorama Resurrected has thus far been seen in Los Angeles, Chicago and Pittsburgh (an edited version can be watched on the Internet). The lecture-performance Panoramas in Motion: Reflections on Moving Image Spectacles Before Film was presented at Germany's 60th International Short Film Festival Oberhausen in 2014.
Huhtamo has curated numerous exhibitions in Europe, the United States and Australia. He created the major international exhibition "Outoäly/Alien Intelligence" for KIASMA Museum of Contemporary Art in Helsinki, Finland in 2000, and has curated retrospective exhibitions of the work of Toshio Iwai, Perry Hoberman, Paul DeMarinis and Bernie Lubell. In 1994, he was the quest director and curator of Sydney's Australian International Video Festival. In 2000, Helsinki, Finland's Museum of Cultures presented Phantasmagoria. Time Travelling in the Moving Image, which featured Huhtamo's own extensive collection of antique magic lanterns, peepshow boxes, animation devices and other media archaeological artifacts. Parts of it have since been shown at UCLA and the Hammer Museum.
Huhtamo's most recent books are Media Archaeology: Approaches, Applications, and Implications (ed. with Jussi Parikka, University of California Press, 2011) and Illusions in Motion: Media Archaeology of the Moving Panorama and Related Spectacles (The MIT Press, 2013). His first Italian and Japanese language single-authored works were published in 2014 and 2015. Recent research articles have discussed topics such as the history of media displays in public outdoor spaces; "peep media," a notion Huhtamo coined; the trottoir roulant, or the moving walkway at Paris' Universal Exposition of 1900; astronomical demonstration instruments as a challenge to "screenology," another concept he coined; the history of the Spirograph, a forgotten device that presents microcinematographed moving pictures from spinning discs; the invention and early reception of the Kaleidoscope; interactive museum displays as a contribution to what he calls "exhibition anthropology"; and the archaeological tradition in media arts.
Huhtamo, who is also a professor in UCLA's Department of Design and Media Arts, is currently working on two books, a new monograph on the history of mechanical theaters and a volume tentatively titled Media Archaeology as Topos Study.
He received his Ph.D. in cultural history from Finland's University of Turku.