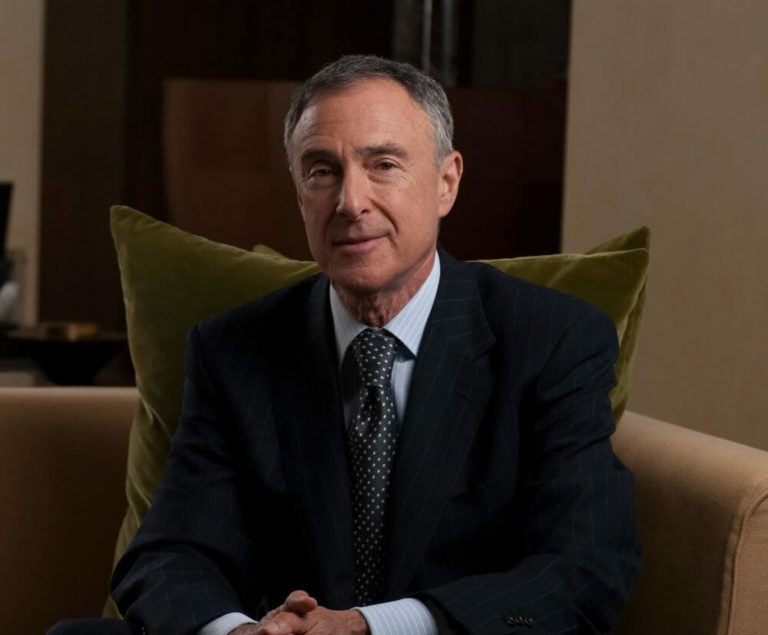 Harry Sloan
Chairman and CEO
Harry Sloan (J.D. '71) is chairman and CEO of Silver Eagle Acquisition Corp. (Nasdaq: EAGL), a special purpose acquisition company (SPAC) formed to acquire domestic or international media/entertainment businesses with high growth potential. Silver Eagle's initial public offering generated more than $325 million, the largest IPO investment raised by any U.S. SPAC in more than seven years.
Silver Eagle is the second SPAC sponsored by Sloan and his business partner, former CBS and Sony Pictures Entertainment president Jeff Sagansky. Their first venture, Global Eagle Acquisition Corp., was formed in February 2011 and raised more than $190 million of equity to invest in the in-flight entertainment industry, one of the world's fastest growing business sectors. In January 2013, Global Eagle Acquisition completed a $430 million business combination with Row 44 Inc. and Advanced InFlight Alliance AG. By pairing these two companies, Sloan created the leading full-service platform offering both content and connectivity for the worldwide airline industry, which now operates under the banner of Global Eagle Entertainment (Nasdaq: ENT). Sloan is a director of Global Eagle Entertainment.
Prior to launching Global Eagle Acquisition, Sloan was named the chairman and CEO of MGM in 2005, one year after a $5 billion private equity buyout of the studio. During Sloan's tenure, he led MGM to revive the James Bond, Rocky and Pink Panther franchises and created a partnership with Peter Jackson and New Line Cinema to produce three Hobbit movies. Sloan also rebuilt MGM's theatrical, television distribution and marketing units. He launched numerous MGM basic television channels in the US and internationally, including MGM UK, India, Italy, Poland and Eastern Europe. Sloan also led the MGM effort to successfully launch the Viacom-Lionsgate joint venture, US Pay TV channel EPIX IN 2009.
Under Sloan's four-year watch, MGM generated approximately $500 million/year of library cash flow and was able to service the $3.7 billion of acquisition debt without tapping into its corporate revolver. Sloan stepped down from his position as CEO in August 2009 and, remaining as chairman, recruited a new team to restructure the debt on behalf of MGM's lenders. In December of 2010, MGM confirmed its plan of reorganization creating a new and financially healthy MGM. Sloan officially left the studio in 2011 to launch Global Eagle Acquisition with Sagansky.
One of his biggest career achievements was Sloan's founding of SBS Broadcasting in 1990 with a personal investment of $5 million. Over the next decade, he was able to build SBS into the second largest broadcaster in Europe, with 16 television stations, 21 premium pay channels and 11 radio networks, reaching 100 million people in nine countries. He led the company's initial public offering in 1993 and sold SBS (Nasdaq: SBTV) for $2.6 billion in October 2005 to Permira and KKR. In 2007, SBS consolidated its operations into Prosieben Sat.1 Media AG, Germany's largest television broadcasting group, creating a European media powerhouse. Sloan served on the Prosieben Sat. 1 Board of Directors until 2009.
Sloan was also one of the founding shareholders of Lionsgate Films in 1999 and served as chairman of Lionsgate's Board from 2004-2005.
Prior to founding SBS, Sloan served as chairman of New World Entertainment Ltd., which he purchased for $2 million in 1983. Over the next three years, Sloan expanded the independent movie production company into television production and distribution as New World became the third largest producer of U.S. primetime television. He led New World's initial public offering in 1985, acquired Marvel Entertainment Group in 1986, and sold the business in 1989 to Ronald Perelman for $270 million. From 1976 to 1983, Sloan was a practicing entertainment lawyer with Sloan, Kuppin and Ament, the Los Angeles law firm that he founded. Sloan received his B.A. degree from UCLA in 1973 and J.D. Degree from Loyola Law School in 1976.
Throughout his career, Sloan has served as a board member for a number of entertainment companies including Prosieben, Lionsgate and Promotora de Informaciones, S.A. or PRISA, Spain's largest media conglomerate. He is also a director of ZeniMax Media Inc., a producer of interactive gaming and web content.
In 1987, Sloan was appointed by President Ronald Reagan to the President's Advisory Council on Trade and Policy Negotiations (ACTPN). He also serves on the UCLA Anderson School of Management Board of Visitors.