Pre-College Digital Filmmaking
Session A (June 23, 2024 – July 13, 2024)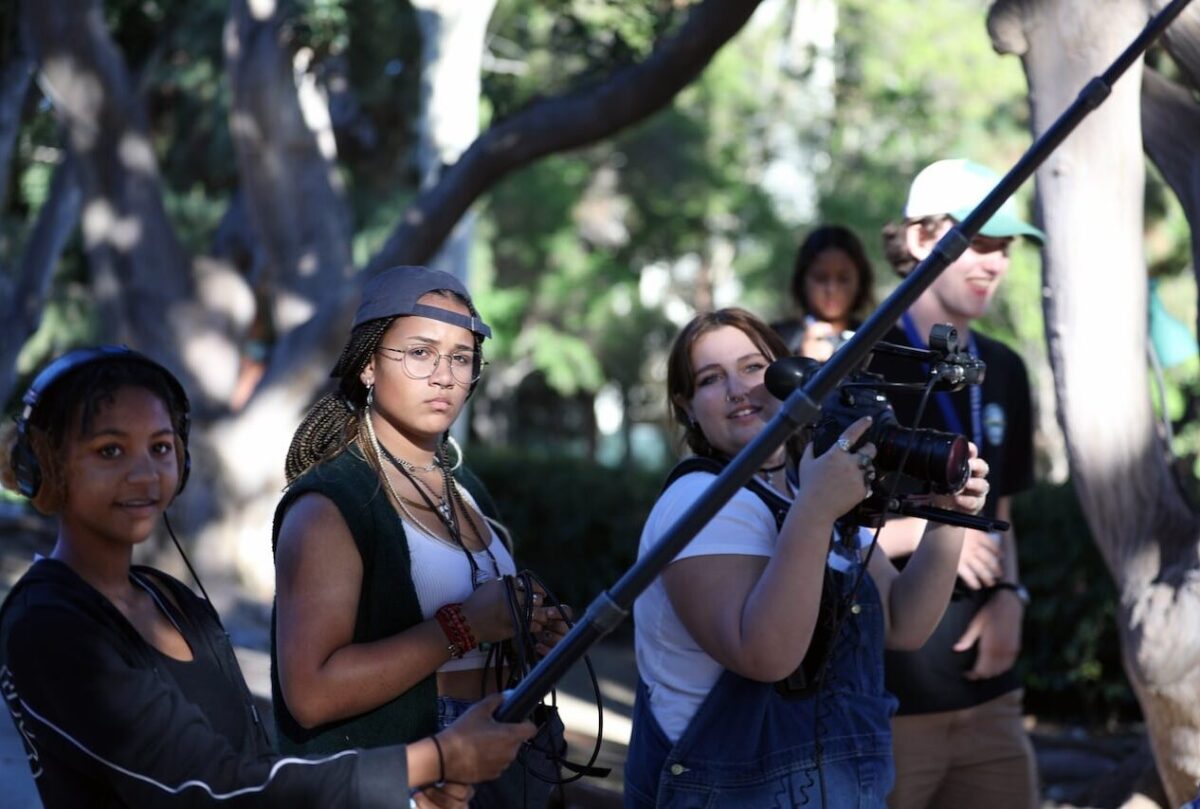 Program Overview
The UCLA Film and Television Summer Institute shapes the filmmakers of tomorrow from the heart of Los Angeles, the entertainment capital of the world.
The Film and Television Digital Filmmaking Summer Institute gives high school students from across the country and around the globe an unparalleled opportunity to study filmmaking at one of the most prestigious film schools in the world. The program is a three-week, intensive production workshop designed for highly motivated rising high school juniors, seniors, and 2024 High School graduates. Students are immersed in the creativity and technique of cinematic storytelling and challenged to create entertaining narrative projects.
Students use the Department of Film, Television and Digital Media's latest editing software and digital cinema cameras
Student work collaboratively on projects that are filmed as daylight exteriors on location across the UCLA campus
The program curriculum consists of a combination of lectures, practical camera exercises, guest speakers, and post production labs
This workshop carries 3 units of UCLA college credit
Program activities include film screenings, guest speakers, and a visit to a Hollywood Studio
All films will be screened in a state-of-the-art theater during the certificate ceremony at the end of the workshop. Friends and family are welcome!
This is an intensive immersion experience for beginning filmmakers designed to form a basic understanding of the aesthetic, creative, and logistical decisions involved in making a film. While previous experience in digital filmmaking is not required, this is a disciplined and rigorous program and requires a significant time commitment. Please refer to the program schedule for details.
Curriculum
Participants of the UCLA Film and Television Digital Filmmaking Summer Institute will be enrolled in the following course:
FTV 72: Production Practice in Film, Television, and Digital Media (3 Units)
Due to the intensive nature of the program, a maximum of one program absence is permitted.
Eligibility
This track is open to high-school students enrolled in 10th-12th grade in Spring 2024.
Online Registration
Registration opens February 15, 2024.
Please visit the Summer Sessions website for more information.
Eligible applicants who successfully submit all requirements will be reviewed and notified via email of an admission decision within two weeks. Early application is strongly encouraged.
Attending the UCLA Film and Television Digital Filmmaking Summer Institute was one of the best decisions I could have made. Working in the film industry has always been my biggest dream, and this program made me even more excited to have a career in this industry one day! The instructors were absolutely amazing, and I made friends that I still text with every day. Living at UCLA for three weeks was also super cool. It's a once in a life time opportunity that no one should pass up!"
– Emma, Digital Filmmaking Student
Digital Filmmaking 2018
Supply List
External Hard Drive

7200 RPM External Hard Drive or Solid-State Drive (SSD) External Hard Drive w/ minimum 500GB Storage Capacity. Connectivity/Interface: USB 3.0 or Thunderbolt 2
Examples of acceptable drives:
SAMSUNG SSD T7 Portable External Solid-State Drive 500GB, USB 3.2 Gen 2, MU-PC500T/AM
G-Technology 500GB G-DRIVE ev RaW SSD Portable External Storage with Removable Protective Rubber Bumper – USB 3.0 – 0G04755-1