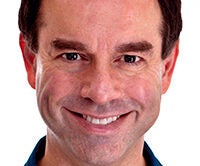 Bill Marsilii
Lecturer
Bill Marsilii co-wrote the romantic time-travel thriller Deja Vu, which holds the record as the highest-priced spec screenplay of all time after selling to producer Jerry Bruckheimer and Touchstone Pictures for $5 million. Starring Denzel Washington, Paula Patton, Val Kilmer and Jim Caviezel, the movie opened Thanksgiving 2006 and went on to gross more than $180 million worldwide.
Soon after, Marsilii sold 20,000 Leagues Under the Sea: Captain Nemo to Walt Disney Pictures, and with his Deja Vu partner Terry Rossio, sold their space adventure Lightspeed to Bruckheimer/Disney as well. More recently, Marsilii adapted the sci-fi comic Sebastian X for producer Gale Anne Hurd and director Martin Campbell, and sold an original project, Cold, to Lionsgate with Reese Witherspoon attached to star and produce.
In addition to UCLA TFT, Marsilii has been a guest lecturer at a wide variety of film and screenwriting programs across the United States, including those at USC, New York University, Pepperdine University, Azusa Pacific University and Barry University in Miami. He has served as a mentor for the past 10 years to such Los Angeles screenwriting workshops as the Act One Screenwriting Program, and for Taliesin Nexus' Apollo Film Lab and SmashCut Film Lab programs.
As a performer, Marsilii was in the original Off-Broadway company of Tony n' Tina's Wedding, and his comedy experience includes stand-up stints at Caroline's on Broadway, Catch a Rising Star, Chicago City Limits and Boston Comedy Club. He co-wrote and starred in two comedy pilots for the Hallmark Channel, and has created several comedy shorts as well.
In February 2018, Marsilii was a keynote speaker at a filmmakers' incubator program held by America Abroad Media in Baghdad, Iraq, in conjunction with the Department of Defense and hosted at the Guest Residence of the Prime Minister of Iraq.