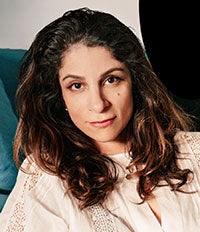 Roya Rastegar
Lecturer
Roya Rastegar is a writer, curator and filmmaker who teaches the graduate seminar "Cinema and the State" in the Department of Film, Television and Digital Media. She wrote the magical realist documentary Wildness (2011), which premiered at MoMA's Documentary Fortnight and won the Grand Jury Prize at Outfest; and produced the Netflix Originals documentary, Gaga: Five Foot Two (2017).
Rastegar has been on the programming team of a number of film festivals, including Tribeca, Sundance and the Santa Cruz Woman of Color Film Festival. Since 2006, she has focused on the evaluation of U.S. fiction feature films and VR for the Sundance Film Festival. As the Director of Programming at the L.A. Film Festival, Rastegar reoriented the festival's mission and programming to showcase emerging writers and directors. She was formerly a Helena Rubenstein Curatorial Fellow at the Whitney Museum of American Art, and is currently a Creative Capital Fellow in Emerging Fields.
Under the guidance of Angela Y. Davis and B. Ruby Rich, Rastegar's doctoral work at the History of Consciousness program at UC Santa Cruz outlines a curatorial methodology for radically inclusive and diverse cinematic spaces. She teaches courses in film and gender studies, critical race theory, political philosophy and postcolonial theory. As a Mellon Postdoctoral Fellow, Rastegar designed and taught introductory and senior seminars at Bryn Mawr College, including "Women of Color & Independent Film," "Curating for the Revolution: Film Festival Practices," "Middle East on Film" and "Black Film Aesthetics."
Rastegar's writing on gender, race and popular culture can be found in mainstream press such as Wired, The Nation, Indiewire and The Huffington Post, alongside peer-reviewed publications such as American Quarterly, Camera Obscura and Screen Journal. She is currently writing a book manuscript, The Death of American Film Festivals, based on her doctoral research.
Recent publications include:
"The Future of Documentary: Industry, Identity, and Politics" In World Records 2, no. 1 (December 2018)
"Physical Cinema at Sundance's New Frontier: A Cosmic Demonstration of Curatorial Practice" In Sisters in the Life: A History of Out African American Lesbian Media-Making, 2018
"Seeing Differently: The Curatorial Potential of Film Festival Programming" In Film Festivals: History, Theory, Method, Practice, 2017