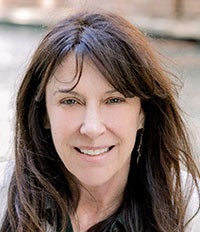 Nancy Richardson
Professor Emerita Recall
Feature film editor Nancy Richardson has been a professor and head of post-production at UCLA TFT for 19 years. She began her career with the 1988 film Stand and Deliver, which won the Independent Spirit Award for Best Picture and received a best actor nomination for Edward James Olmos. Her many credits include Thirteen, Lords of Dogtown and Twilight, directed by Catherine Hardwicke; To Sleep With Anger, Selma, Lord, Selma and Annihilation of Fish, directed by Charles Burnett; and Mi Familia, Selena and Why Do Fools Fall in Love, directed by Gregory Nava. She also edited the directorial debut of Maya Angelou's Down in the Delta.
Other credits include director Anne Fletcher's Step Up, starring Channing Tatum; director Tim Disney's American Violet, starring Alfre Woodard, which screened at the Telluride Film Festival in 2008; director David Slade's The Twilight Saga: Eclipse (shared credit); director Michael Sucsy's The Vow (shared credit), starring Channing Tatum; director Jonathan Levine's Warm Bodies, starring Nicholas Hoult; Divergent and Insurgent (shared credits), starring Shailene Woodley; Everything, Everything, starring Amandla Stenberg and directed by Stella Meghie; and director Stephen Merchant's Fighting With My Family, which screened in the coveted Sundance Surprise slot at the Sundance Film Festival in 2019.
She was an additional editor on Lisa Cholodenko's The Kids Are All Right and the Transformers origin story Bumblebee, directed by Travis Knight. Her next project, Paramount's thriller Monster Problems, starring Dylan O'Brien, was filmed in Australia and is slated for a 2021 release.
Richardson received a Primetime Emmy Award nomination for her work on the 2001 Showtime film Hendrix. She was invited into the Academy of Motion Picture Arts and Sciences in 2005, and now serves on the Executive Committee of the Editors Branch. She is also a member of American Cinema Editors and has been on the Editors Guild Board of Directors for more than 15 years. She has been a creative advisor for the Sundance Labs several times and helps in a similar capacity at Film Independent.
Richardson received her undergraduate degree from UC Berkeley and her M.F.A. from the UCLA School of Theater, Film and Television.