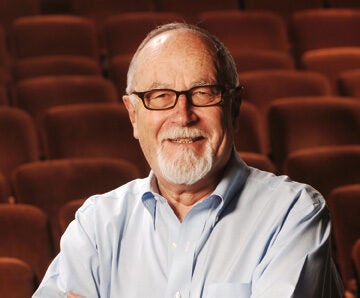 Gilbert Cates
Director and Emmy Award-winning producer Gil Cates was the founding Dean of the UCLA School of Theater, Film and Television from 1990 to 1997 and the producing director of the Geffen Playhouse from 1995 to 2011.
Cates produced a record 14 Academy Awards telecasts from 1990 to 2008 and was Emmy nominated 13 times for his efforts, winning the Outstanding Variety, Music or Comedy Special award in 1991.
During his tenure at the Geffen Playhouse, he directed a number of productions including Jeffrey Hatcher's A Picasso (2007); a new adaptation of Lerner & Loewe's Paint Your Wagon (2004-05); Cat on a Hot Tin Roof (2005-06); David Eldridge's Under the Blue Sky (2002-03); and Donald Margulies' Collected Stories (1999), for which he won a best director Ovation Award.
In the early years of his career, he produced and directed many plays on and off-Broadway including Voices (1972); I Never Sang for My Father (1968); and You Know I Can't Hear You When the Water's Running (1967-69).
In 1970, Cates produced and directed the film version of I Never Sang for My Father, starring Gene Hackman, which earned three Academy Award nominations. He also directed Joanne Woodward and Sylvia Sidney in the 1973 film Summer Wishes, Winter Dreams, which received two nominations. Other film directing credits include Dragonfly aka One Summer Love (1976); The Promise (1979); The Last Married Couple in America (1980); Oh! God Book II (1980); and Backfire (1988).
Cates received the DGA's Presidents Award in 2005, the DGA Honorary Life Member Award in 1991 and the guild's Robert B. Aldrich Achievement Award for extraordinary service. In early 2005, Cates was awarded the American Society of Cinematographers' Board of Governors Award. That same year, he was awarded a Star on the Hollywood Walk of Fame. In November 1996, he received the Jimmy Doolittle Award for Outstanding Contribution to Los Angeles Theater.
Cates served two terms as Directors Guild of America president from 1983 to 1987 and sat on the Academy's Board of Governors twice: From 1984-1993 and again from 2002-2005. He was Board of Governors vice president from 2003-05.
Cates passed away on October 31, 2011 in Los Angeles.