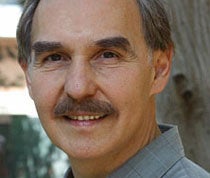 A.P. Gonzalez
Professor Emeritus
A.P. Gonzalez taught writing and directing at the UCLA School of Theater, Film and Television and was awarded UCLA's prestigious Distinguished Teaching Award in 2003. He is a member of the Directors Guild of America and is the co-chair of the DGA's Latino Committee. In 2005, he was named among the top 100 influential Latinos in the country by Hispanic Business magazine and was nominated for a 2007 Rockefeller Media Arts Fellowship.
His feature screenplay, Cross My Heart, was one of 12 feature scripts to be selected by Tribeca's All Access Connects in 2006. His short film Hurricane Party completed the 2006-2007 festival circuit. In 1998, he received an Alma Award for directing Mangas, part of ITV's series Foto-Novelas. Mangas also played in more than 25 international festivals in the U.S. and abroad.
After receiving the Distinguished Student Award in Film at San Francisco State University, Gonzalez founded his own San Francisco-based production company, In-Camera Film and Video. As the company's president, he produced and directed numerous films, including the 1988 indie feature, Clay Farmers. The film has been broadcast, among others, by the BBC, PBS, TV-3 Barcelona, and Canada's The Knowledge Network, earning recognition at festivals throughout the world, including AFI and Billboard Magazine's Best-Fiction AVC Award.
Gonzalez produced and directed a segment on performance artist El Vez for PBS' ColorVision. For Discovery Channel, he directed the one-hour documentary The Silent Crisis: Diabetes Among Us. He also directed 22 episodes of PBS' Amigos, a bilingual narrative series. In addition, he wrote, directed and produced Together Against Abuse for the State of California.
Gonzalez edited two films for The Names Project: The Inaugural Display of the Quilt and the ACE Award nominee We Bring a Quilt. He also edited the Golden Apple award-winning documentary Not All Parents Are Straight and Peace Begins Here, a television documentary about peace activist Brian Willson.
Currently in development, Gonzalez will next direct and co-produce El Beisbol, a long-form TV documentary about Latinos and Major League Baseball.