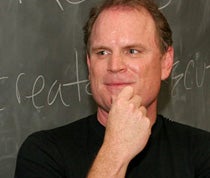 Tom Nunan
Lecturer
Tom Nunan is best known as the founder and partner of Bull's Eye Entertainment, a mid-sized independent film and television production company in Los Angeles. During his oversight as a partner in Bull's Eye, Nunan has generated a television and film slate of more than 50 projects, including creating a strategic alliance with Sony Pictures TV. Nunan and his partners achieved worldwide fame and success as producers of the Academy Award-winning Crash, which was named Best Picture in 2006, as well as other beloved titles including The Illusionist, Thumbsucker and Employee of the Month. Nunan also supervised the creation and production of many high-profile television projects such as the Starz cable network series adaptation of Crash, the Lifetime series Angela's Eyes and the CBS comedies All Grown Up and The Papdits.
Prior to forming Bull's Eye, Nunan was president of the United Paramount Network (UPN) now known as The CW. Nunan grew the network from two nights a week to its present schedule of six nights and had oversight of many departments including development & programming, scheduling, marketing and business affairs, and had a "dotted line" oversight of affiliates and sales. Nunan supervised more than 70 employees in the Los Angeles-based national headquarters, but also consulted and helped supervise the local programming efforts of many major market stations that comprised the UPN web of stations. Nunan's accomplishments as president of UPN included building successful "event night" programming: a highly rated African-American skewing Monday night; a female teen-drama skewing Tuesday night; a science-fiction-based programming grid on Wednesdays; a hugely successful WWE franchise on Thursdays; an original movie night on Fridays; and a mix of younger-skewing comedies and event dramas on Sundays.
To run a network such as UPN successfully, it must include the delicate integration of all departments. Nunan's experiences as the president of NBC Studios perfectly prepared him for the task. While in charge, he grew the tiniest vertically integrated production companies into NBC's largest suppliers of programming and oversaw a budget of more than $80 million in development costs, which led to the production of some of NBC's most cherished programs including Will & Grace, Profiler, The Pretender and even the CBS hit The King of Queens, which was generated at NBC Studios. Nunan oversaw a staff of more than 45 employees, ranging from business affairs and development to production and marketing. NBC was the No. 1 network at the time and Nunan was surrounded by some of TV's most enduring and successful executives including Don Ohlmeyer, Warren Littlefield, Steve McPherson, Jamie Tarses, Kevin Reilly and David Nevins, among others. Many on this team went on to run other networks and studios, as Nunan did UPN.
NBC's initial interest in Nunan stemmed from the work he did helping to expand The Fox Broadcasting Company from a two-night-a-week to a seven-night-a-week service. While at Fox, he ran its enormously successful comedy department — leading the way with shows such as The Ben Stiller Show, Martin, Living Single, In Living Color, Mad TV and Flying Blind. His success as a comedy executive ultimately led to him overseeing all of Fox's primetime — including reality, comedy, drama and late night.
Prior to successfully running long-form development and production for Jerry Weintraub, Chuck Fries and the Guber/Peters Company, Nunan began his network-programming career as the vice president in charge of movies at ABC.
A graduate of the UCLA School of Theater, Film and Television, Nunan is now a member of the School's steering committee and teaches annually in its Graduate Producers Program. He is the former president of the Hollywood Radio & TV Society and is currently chairman of the Joyful Heart Foundation, created and founded by Emmy- and Golden Globe-award-winning actress Mariska Hargitay.