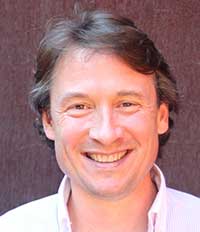 Thomas O'Connor
Associate Professor
Though trained primarily as an actor, Associate Professor Thomas O'Connor performed for two important choreographers in his early career in the 1990s. The first, John Giffin, was a member of the Dance Theater of Wuppertal in Germany under the direction of Pina Bausch. During the same period, O'Connor trained with avant-garde choreographer and dancer Maureen Fleming, and performed in two of her group works: The Garden, commissioned by Change Performing Art with a 1996 premiere in Milan, Italy, and After Eros, a collaboration with composer Philip Glass and playwright David Henry Hwang, which premiered at the prestigious performance venue, The Kitchen, in New York City in 1998.
In 2002, O'Connor began training in Japan with the prominent Noh actor Ryoichi Kano and for the past seven years, he has been a performer with Theatre Nohgaku. Since 2008, O'Connor has served on the Steering Committee and from 2010-2013 served as the managing director of the company, which has gained increasing international recognition with performances in Paris, London, Oxford, Dublin, Tokyo, Kyoto, Beijing and Hong Kong. Founded in 2002, by Artistic Director Richard Emmert, Theatre Nohgaku is dedicated to developing an English voice for Noh, one of the world¹s oldest theater forms. In particular, the company seeks "a dialogue between two different Noh theatres: one traditional Japanese, the other contemporary and international."
O'Connor is also associated with a translation project for the National Noh Theatre in Tokyo via the Japan Cultural Council. Between 2006 and 2013, he served as the lone native English-speaking member of a team of five, which provided approximately 270 Noh and Kyogen translations for simultaneous subtitling.
O'Connor has held a number of positions at colleges and universities including West Virginia University where he was recognized twice for outstanding teaching. He has also held adjunct and visiting appointments at Williams College in Williamstown, Mass., Doshisha University AKP Center and Doshisha Women's College of Liberal Arts (both in Kyoto, Japan), and has been a Research Fellow in Intercultural and Interdisciplinary Learning for the National Institute of Multimedia Education, an arm of the Japan Ministry of Education, Sports and Culture.
O'Connor has a B.F.A. in communications from Wayne State University, and an M.F.A. in theater performance and an M.A. in dance composition from Ohio State University.