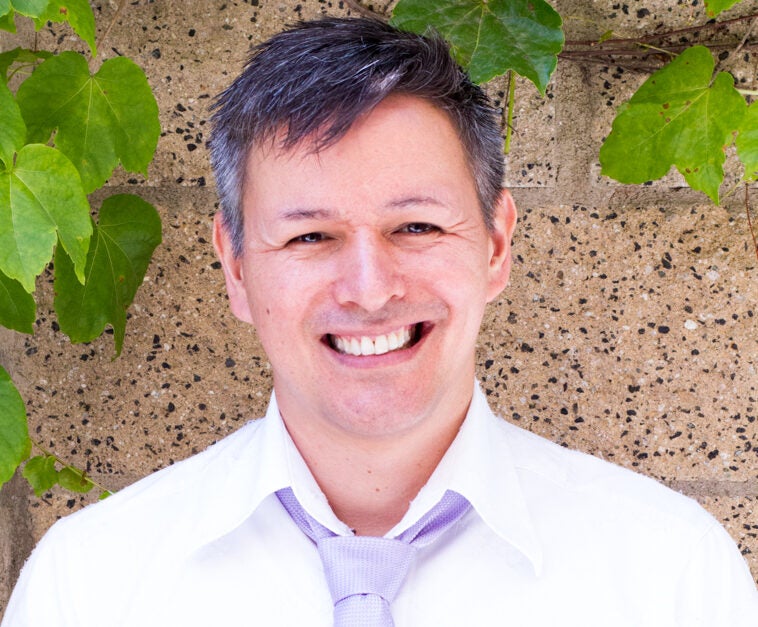 Sean Metzger
Head of Theater and Performance Studies; Professor
Sean Metzger is a scholar who works at the intersections of several fields: visual culture (art, fashion, film, theater) as well as Asian American, Caribbean, Chinese, film, performance and sexuality studies. He has written two books. Chinese Looks: Fashion, Performance, Race (Indiana University Press, 2014) demonstrates how aesthetics, gender, politics, economics and race are interwoven through particular forms of dress in what Metzger calls the Sino/American interface from the late 19th through early 21st centuries. The Chinese Atlantic: Seascapes and the Theatricality of Globalization (Indiana University Press, 2020) complicates discourses of globalization through an examination of aesthetic objects and practices situated in cities from Shanghai to Cape Town. The Chinese Atlantic won the 2022 Association for Asian American Studies Book Award for Humanities & Cultural Studies: Interdisciplinary/Media Studies and the 2021 John W. Frick Award from the American Theatre and Drama Society for best book on theater and performance of/in the Americas. Metzger has published more than 75 articles and reviews in various print and online venues.
He has worked extensively to increase collaboration among thinkers and artists from different disciplines and has co-edited numerous interdisciplinary collections of essays in this vein: Embodying Asian/American Sexualities with Gina Masequesmay (Lexington, 2009); Futures of Chinese Cinema: Technologies and Temporalities in Chinese Screen Cultures with Olivia Khoo (Intellect, 2009); Race, Space, Place: The Making and Unmaking of Freedoms in the Atlantic World with Michaeline Crichlow (Cultural Dynamics, 2009); Islands, Images, Imaginaries with Francisco J. Hernández Adrián and Michaeline Crichlow (Third Text, 2014); Expressions of Asian Caribbeanness with Andil Gosine and Patricia Mohamed (Asian Diasporic Visual Cultures and the Americas, 2019); and Transient Performance with Kimberly Chantal Welch (Cultural Dynamics, 2020). He is co-editor with Roberta Mock of The Methuen Drama Handbook to Theatre and Gender (forthcoming). With John Clum, he edited an anthology of plays called Awkward Stages: Plays about Growing Up Gay (Cambria, 2015). He has been an associate editor of Cultural Dynamics for several years and and is currently the editor of Theatre Journal for which he curated special issues entitled Minor Asias (2020), AI (2021), Installation (2022) and Refugee Processing (forthcoming 2023).
Metzger also strives to create educational and scholarly networks from the local to the global. He served on the Executive Board of Performance Studies international for six years, serving as the organization's president from 2016-2020. He then co-convened PSi's inaugural Committee on Anti-Racist Actions and Practices (2020-2021). In 2014, he taught for the UC Education Abroad Program at Fudan University (China). He travels often, giving guest lectures in the U.S. and abroad. He was a fellow at the Asian American Studies Center at UNC-Chapel Hill (2021-2022). He worked for nine years as a UCLA Faculty-in-Residence, where he worked to engage students with Los Angeles as a global media capital. He consults for major entertainment companies.
Before his arrival at the UCLA School of Theater, Film and Television in 2012, Metzger was an assistant professor of English, theater studies, and Asian & Middle Eastern studies at Duke University. He was named the inaugural Fulbright Research Chair in North American Society and Culture at Concordia University (Canada) in 2008 and a Framing the Global fellow with Indiana University and Indiana University Press (2011-2018). At the beginning of his academic career, he served as adjunct faculty at Antioch University, Loyola Marymount University and the USC School of Dramatic Arts. In addition to his academic work, he spent three years in social services at the L.A. LGBT Center and as an independent consultant to school districts and other non-profit institutions.
Metzger holds a Ph.D. in theater (twentieth century performance and culture), an M.A. in comparative literature and a B.A. summa cum laude in humanities and psychology.