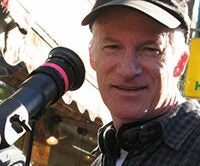 Mark Rosman
Lecturer
Mark Rosman has been a Hollywood writer and director for more than 30 years working in features, TV movies and episodic television. He directed Warner Bros.' award-winning box office hit A Cinderella Story, starring Hilary Duff, Chad Michael Murray and Jennifer Coolidge. Rosman re-teamed with Duff on Universal's The Perfect Man, which also starred Heather Locklear and Chris Noth. He directed William & Kate for Lifetime and two movies for ABC Family Channel: Princess, one of the highest rated TV movies of 2008, and the Christmas romantic comedy Snow 2: Brain Freeze.
Rosman's career began with the cult classic horror/thriller The House on Sorority Row, which he wrote, directed and produced. The film became one of the highest grossing independent theatrical features of 1983. Among the highly rated TV movies he has directed are Life-Size, starring Lindsay Lohan and Tyra Banks for ABC's Wonderful World of Disney, and The Blue Yonder, which Rosman also wrote. The latter was nominated for a Writers Guild and Cable Ace Awards. Rosman's series television work has included directing numerous episodes of the hit comedies Lizzie McGuire, State of Grace and Even Stevens. His dramatic TV work includes the primetime CBS suspense drama Ghost Whisperer and the ABC Family hit series Greek.
Rosman serves as 410 coordinator in the Production Program at UCLA TFT. As 410 coordinator, he is responsible for supervising all aspects of the instruction of UCLA TFT's first-year MFA directing and cinematography students, and overseeing their film productions.
He is a film school graduate of NYU's School of the Arts (now the Tisch School of the Arts), is a member of the Writers Guild and Directors Guild, and has taught filmmaking at numerous universities. In addition to teaching at the UCLA School of Theater, Film and Television, he is currently an adjunct faculty member at USC's School of Cinematic Arts.