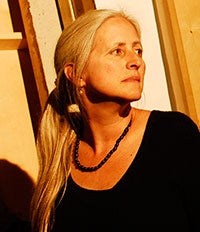 Becky J. Smith
Professor Emerita
Becky Smith is an Emmy Award-nominated film and television director. She has directed pilots and series for ABC Family, Bravo, Disney Channel, Fox, Lifetime, NBC, and PBS, and created the MTV series Parental Control. She teaches directing and screenwriting and runs the first-year graduate program in production, cinematography and directing in the Department of Film, Television and Digital Media.
In 2004, Smith was Emmy-nominated for directing Bravo's Queer Eye for the Straight Guy, which won the Outstanding Reality Program Emmy the same year.
Her 2009 feature comedy 16 to Life is distributed by Warner Bros. Digital and is widely available on Netflix, Amazon, Hulu and many other platforms. The film received nine best feature and/or best of festival awards internationally. In 2012, she launched a web series, Sloppy Tacos.
Smith's documentary work includes a PBS Frontline episode, In the Game, which was named Best Television Documentary of the Year by American Women in Radio and Television, and the 2008 feature documentary The Daring Project, chronicling the final chapter in dance for five principal dancers from the Bolshoi, Kirov, ABT and New York Ballets. She is currently in production on the documentary Lilian Terry, which features one of Europe's most important jazz singers.
Smith has been a Fellow at the MacDowell Artist's Colony and has received grants from Women in Film, the California Arts Council and the American Film Institute. She is an alumna of the Directing Workshop for Women and the Movie of the Week Writer's Workshop at AFI. She is currently developing the feature films Sun Dogs and Confessions. She received her M.A. in film from Stanford University.