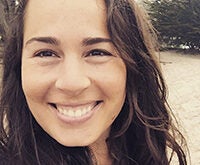 Amanda Zieve
Lecturer
Lighting designer Amanda Zieve works primarily in San Diego and New York, though recent credits have taken her across the country to Kansas City, Mo. (Sweeney Todd and Roof of the World at KC Rep); Arlington, Va. (Billy Elliot and Titanic at Signature Theatre; and Atlanta, Ga. (Approval Junkie at Alliance Theatre).
In San Diego, she has designed Hair, Ebenezer Scrooge's Big San Diego Christmas Show, Tiny Beautiful Things, Barefoot in the Park, Native Gardens, The Wonderers and Rich Girl for The Old Globe as well as Put Your House In Order for La Jolla Playhouse.
Her associate credits include: The Heart of Rock and Roll, Bright Star and Allegiance (The Old Globe), Escape to Margaritaville, Hollywood, The Hunchback of Notre Dame, A Midsummer's Night's Dream and Chasing the Song (La Jolla Playhouse).
In New York City, she has worked on 19 Broadway productions including the smash hit Hamilton.
Zieve is the proud co-founder of the Howell Binkley Fellowship Program. Created in partnership with the Hemsley Lighting Programs, the Fellowship honors Howell Binkley's legacy of mentorship by providing the extra "push" and assistance in fostering the next generation of theatrical lighting designers as they begin their careers.
Zieve received her B.A. in theatre from California State University, Northridge.