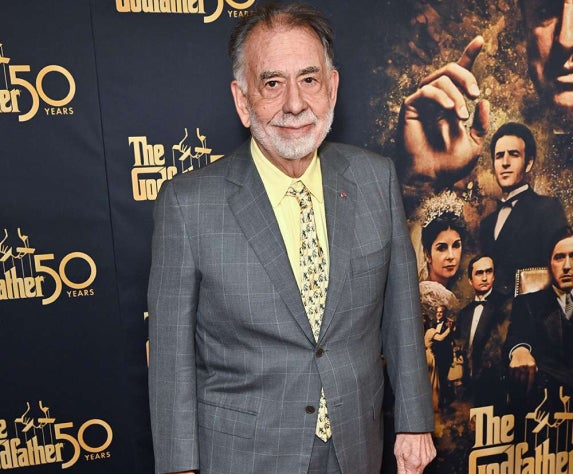 Francis Ford Coppola
Executive
Francis Ford Coppola (M.F.A. '67), is one of the most influential and innovative filmmakers of our time. As the maverick founder of his company American Zoetrope, he personally initiated and nourished the careers of talents such as George Lucas, Carroll Ballard, John Milius, daughter Sofia Coppola, and actors including Al Pacino, Robert DeNiro, James Caan, Harrison Ford, Richard Dreyfus, Diane Keaton, Robert Duvall, Laurence Fishburne, Matt Dillon and Diane Lane. Zoetrope-produced films have received 16 Academy Awards and 70 nominations. As a writer, director, producer and technological pioneer, Coppola has created a body of work that has helped to shape contemporary American cinema.
Born April 7, 1939 in Detroit, Coppola is descended from musically gifted Southern Italians who immigrated to New York in the early 20th century. His maternal grandfather, Francesco Pennino, was a songwriter, and his father, Carmine, first flute for the NBC Symphony under Toscanini. He himself might have gone on to a career in music were it not for a bout of polio when he was 9, which kept him paralyzed for well over a year. During his confinement, he developed an interest in puppetry and ventriloquism, and started making 8mm movies when he was back on his feet. After graduating in 1959 from Hofstra College with a B.A. in theatre arts, he enrolled at UCLA for graduate work in film.
In 1962, Coppola's student screenplay Pilma Pilma won the Samuel Goldwyn Writing Award at UCLA, after which he began his professional career in earnest. His adaptations of Reflections in a Golden Eye, This Property Is Condemned, and Is Paris Burning? were produced, making him a much-in-demand screenwriter. He also wrote a script about George Patton, and in 1970, Patton won seven Academy Awards including Best Picture and Best Adapted Screenplay, shared by Coppola with co-writer Edmund H. North.
Coppola's second film, You're a Big Boy Now (1966), which earned him his M.F.A. at UCLA, marked his first appearance at the Cannes Film Festival, where he would later enjoy acclaim, twice winning the Palme d'Or (The Conversation, 1972; Apocalypse Now, 1979). He directed Fred Astaire in Finian's Rainbow, adapted from the Broadway musical, followed by an original work, The Rain People. Coppola's ability to make The Rain People with a minimum of studio interference inspired him to establish, along with his friend George Lucas, American Zoetrope, a San Francisco-based production center for young independent filmmakers. Lucas's first two features, THX 1138 (1971) and American Graffiti (1973) were produced under its aegis. But the company was high maintenance, and in 1970 Coppola was persuaded to direct a gangster picture based upon a best-selling novel by Mario Puzo, The Godfather. The Godfather created a sensation upon release, altering the course of his career, along with its equally successful follow-up, The Godfather, Part II. In between the two gangster epics, Coppola made The Conversation (1974) from his original screenplay, a thriller about wiretapping and responsibility which endures as one of his most admired and influential pictures.
In 1976, Coppola began Apocalypse Now, financing the Vietnam War epic himself. Almost everything that could go wrong did: Star Martin Sheen suffered a heart attack; co-star Marlon Brando showed up grotesquely overweight; a typhoon destroyed the sets. Shooting stopped, then re-started, and the budget skyrocketed, delaying the film's release until 1979. Stylistically, Apocalypse Now was so unusual, especially for a war film, that critics were originally divided. Nonetheless, its box office was, over time, hugely successful, and Apocalypse Now has come to be regarded as a masterpiece, influencing generations of directors across the globe.
The 1980s brought about a radical change in Coppola's career. Desiring to create an electronically modern filmmaking facility, he bought Hollywood General Studios and renamed it Zoetrope Studios. Production immediately began on Hammett, directed by Wim Wenders, and soon thereafter on One From the Heart, a musical. Some of the innovations that came out of this period were "previsualization" (a phrase coined by Coppola), use of ethernet as a means of departments communicating, word processing for screenplays (which garnered much suspicion from the Writers Guild who thought that a computer was actually writing the scripts), re-introduction of video assist, the development of 5.1 stereo sound, electronic editing and experimentation with high-definition. But cost overruns incited an avalanche of negative publicity which deleteriously affected reception to the films. Ownership of the facility passed into the hands of creditors, and Coppola returned to Northern California.
The 1980s constituted a period of "work for hire," as Coppola labored to pay off the banks that had financed his failed Hollywood studio. He made a film nearly every year, taking what jobs were offered to him, but always putting his personal creative stamp on the films. As a new decade commenced, Coppola was in the spotlight once again: The Godfather, Part III (1990) garnered seven Oscar nominations, including Best Director. Bram Stoker's Dracula (1992) snared three Academy Awards. The Rainmaker, starring Matt Damon, introduced him to a new generation of actors, but in Coppola's mind, his career of "work for hire" had come to an end.
Coppola was perplexed and uncertain of direction until, in 2005, he was reminded of low-budget filmmaking by his daughter Sofia's film Lost in Translation. He decided to return to the desire of his youth; to write and direct small personal films in the manner in which he had made The Rain People. He had read Youth Without Youth, a story by Romanian philosopher Mircea Eliade, an allegory about an aging professor who becomes young again. His spirits soared. "I can make this," he thought. He packed a van full of equipment, shipped it to Romania and made the film. He followed that with his most personal film to date, Tetro, shot in the same way, with a few vans and a small crew, in Argentina. Desiring to make a film closer to home, he shot Twixt (2011), with the same philosophy that a low-budget and small crew gives the creator the greatest control possible.
Coppola has always been a dreamer, but he is one of those rare people who determinedly have turned dreams into reality. With the imagination of a child and an ever-curious mind, he continues to pursue his conviction that the magic combination of talent and technology, which was the basis of the birth of the motion picture, can continue to combine in ever-new ways.