Emerging Filmmakers Cinematography
Session A (July 28 – August 3, 2024)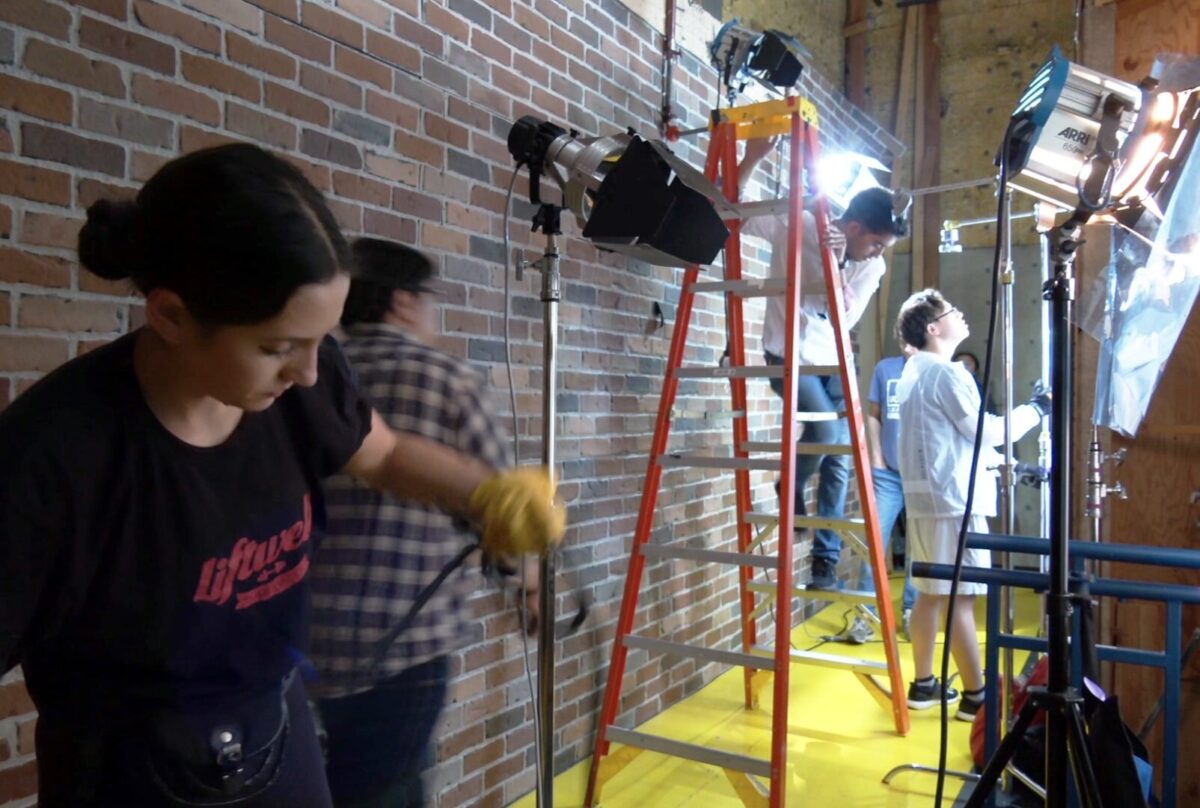 Program Overview
The UCLA Emerging Filmmakers Cinematography Track gives high school students an unparalleled opportunity to study cinematography at one of the most prestigious film schools in the world. This one-week intensive workshop is designed for highly motivated rising juniors and seniors, and spring 2024 high school graduates. Students are immersed in the concepts, creativity and technique of cinematic lighting through a combination of lectures and hands-on lighting exercises. Students will explore such concepts as composition, framing, blocking, lens choice, camera movement/placement, exposure, lighting techniques/equipment, shot design, and set protocol.
Curriculum
Students are immersed in the concepts, creativity and technique of cinematic lighting through a combination of lectures and hands-on lighting exercises.
Students work on UCLA sound stages with the latest digital cinema cameras and lighting equipment

 

The program curriculum consists of a combination of morning lectures and afternoon hands-on lighting exercises

 

Class exercises will be screened at the end of the workshop. Friends and family are welcome!
This is an intensive immersion experience for beginning to intermediate filmmakers designed to form a basic understanding of the aesthetic, creative, and logistical decisions involved in lighting for film and television. Previous experience in cinematography is not required.
UCLA Emerging Filmmakers will receive a certificate of completion at the conclusion of the program. The program does not carry college credit.
Due to the intensive nature of the program, a maximum of one program absence is permitted.
Eligibility
This track is open to high school students enrolled in 10th – 12th grade in Spring 2024.
Online Registration
Registration opens February 15, 2024.
Eligible applicants who successfully submit all requirements will be reviewed and notified via email of an admission decision within two weeks. Early application is strongly encouraged.
Supply List
Grip Gloves
Pair of Grip Gloves for lighting exercises. Your grip gloves must be heat resistant.
Examples of acceptable grip gloves:
Leather Grip Gloves
Ironclad Work Gloves
Heat Resistant Leather Gloves
Clothing Requirements (required for working safely on soundstages):
Closed-toed shoes  

Pants that cover your whole leg 
Highly Recommended Items:
iPad/laptop to complete homework
Solid-State Drive (SSD) External Hard Drive w/ minimum 500GB Storage Capacity Connectivity/Interface: USB 3.0 or Thunderbolt.
Examples of acceptable drives:

SAMSUNG SSD T7 Portable External Solid-State Drive 500GB, USB 3.2 Gen 2, MU-PC500T/AM
G-Technology 500GB G-DRIVE ev RaW SSD Portable External Storage with Removable Protective Rubber Bumper – USB 3.0 – 0G04755-1

The Following Apps Pre-Downloaded on your Tablet or Smart Phone:
Schedule
Emerging Filmmakers Cinematography Session A (July 28 – August 3, 2024)

Students are engaged in activities and classes along with breaks throughout the day from 9:00 a.m.-9:30 p.m. There will be evening classes / workshops that occur where students will be required to be present.

NOTE: All course meeting times are in Pacific Daylight Time (PDT). The program schedule is subject to change.

On-Campus (Mandatory Housing)
Due to the rigorous and intense nature of the program, the residential plan, which includes a meal plan, is mandatory for all on-campus participants. Participants will be housed in one of the UCLA residence halls, comfortably furnished and conveniently located within easy walking distance of classrooms, libraries, and recreational facilities.