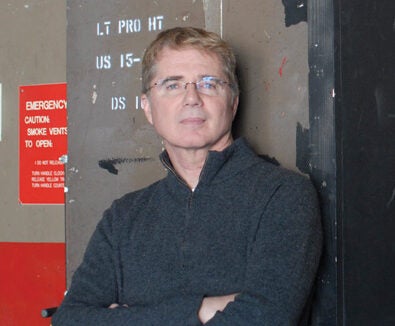 Rich Rose
Professor Emeritus
Rich Rose teaches in the area of scenic design for the stage. He is also the author of several books on computer-aided design, drafting and sketching for the stage (Penguin Random House) and a member of United Scenic Artists Local 829.
As the resident scenic designer at the award-winning Back Alley Theater for several years, Rose designed numerous productions including Jacques Brel is Alive and Well and Living in Paris, Ringers, The Fox, In the Sweet Bye and Bye, Days and Nights Within and Found a Peanut.
More recent scenic designs include the La Mirada Theatre for the Performing Arts productions of American Idiot (Broadway World nomination, Best Scenic Design; StageSceneLA Award, Best Production Design; StageSceneLA Award, Outstanding Scenic Designer) Floyd Collins (Broadway World nomination, Best Scenic Design) and Spring Awakening; the national tours of In the Heat of the Night, Judgment at Nuremberg (national tour; Wallis Annenberg Center for the Performing Arts production) The Mountaintop and Steel Magnolias at L.A. Theatre Works. For the Actor's Co-op Theatre Company in Hollywood, Rose designed the scenery for The Baker's Wife, Summer and Smoke (Los Angeles Times Critics Choice) Our Town, A Man for All Seasons and A Body of Water.
Current designs include Other Desert Cities and The Chalk Garden at Will Geer's Theatricum Botanicum; Andy Warhol's Tomato (Los Angeles Times Critics Choice) and the world premiere of STALLED at Pacific Resident Theatre; and Rabbit Hole for The Guangzhou Dramatic Arts Centre in Guangzhou, China.