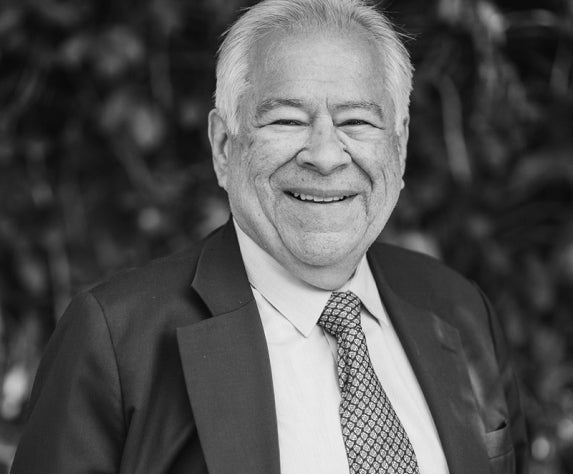 Moctesuma Esparza
CEO
An award-winning producer, entertainment executive, entrepreneur and community activist, Moctesuma Esparza is well known for his contributions to the movie industry and commitment to creating opportunities for Latinos everywhere. A partner in the highly successful Esparza-Katz Productions with Robert Katz, he worked with stars such as Robert Redford, Jennifer Lopez, Andy Garcia, Jimmy Smits, Martin Sheen, Robert Duvall and Halle Berry. Esparza founded Maya Entertainment, a vertically integrated media content company providing full service motion picture distribution and production. Maya acquires, produces and distributes multicultural and Latino themed product for all distribution platforms throughout the world and is dedicated to the growing U.S. Latino market.
Esparza's latest film, Taco Shop, starring Tyler Posey and Eric Roberts, is set for release in 2015. His HBO film Walkout (2006) told the true story of the Chicano student uprising in East Los Angeles in 1968, where dramatic walkouts were staged at high schools to protest academic prejudice and dire school conditions. Other films produced by Esparza include Price of Glory (2000), Introducing Dorothy Dandridge (1999), Selma, Lord, Selma (1998), Selena (1997), The Disappearance of Garcia Lorca (1997), The Ballad of Gregorio Cortez (1994) and The Milagro Beanfield War (1988), among others.
In addition to his productions, Esparza established Maya Cinemas, a growing chain of modern movie theater megaplexes committed to providing the highest quality movie-going experience in new and redeveloping market areas with a strong Latino presence.
Born and raised in Los Angeles, Esparza received both his bachelor's and master's degrees from the UCLA School of Theater, Film and Television. From the onset of his career, he dedicated himself to empowering and transforming the images of Latinos in Hollywood.
He founded the Los Angeles Academy of Arts and Enterprise Charter School, is co-founder of the National Association of Latino Independent Producers, co-founder of the Smithsonian Latino Center, and founding member of the Cesar Chavez Foundation. He has served on the corporate board of directors of the Motion Picture Television Fund, the board of directors of the Museum of Latin American Art, and as a trustee of the California State University System. Additionally, Esparza served as a commissioner to the Los Angeles City Retirement System.
In addition to serving on the Executive Board at the UCLA School of Theater, Film and Television, Esparza serves on numerous advisory boards including those of the National Hispanic Cultural Center, the Latino Coalition Against AIDS, the National Hispanic Media Coalition, the Robert Toigo Foundation and the Minority Media Telecommunications Council, and is a member of the American Film Institute board of trustees. He is a board member and former chair of the New America Alliance, co-chair of The Marathon Club, and CEO of the Latino Theater Company in Los Angeles. He was appointed by former Mayor Antonio Villaraigosa to the Los Angeles Homeless Services Authority, and was also appointed by U.S. Senate Majority Leader Harry Reid to the planning commission of the National Museum of the American Latino.
Esparza has received numerous awards and honors including an Academy Award nomination, a Golden Globe nomination, an Emmy award, a Clio award, an Alma award, a Cine Golden Eagle award and was named one of the "50 Most Powerful and Influential Latinos" of 2008 by The Imagen Foundation.