Pit Orchestra Summer Institute
The UCLA PIT Orchestra Summer Institute provides intensive training for skilled student musicians in preparation for performing in a musical theater production pit orchestra.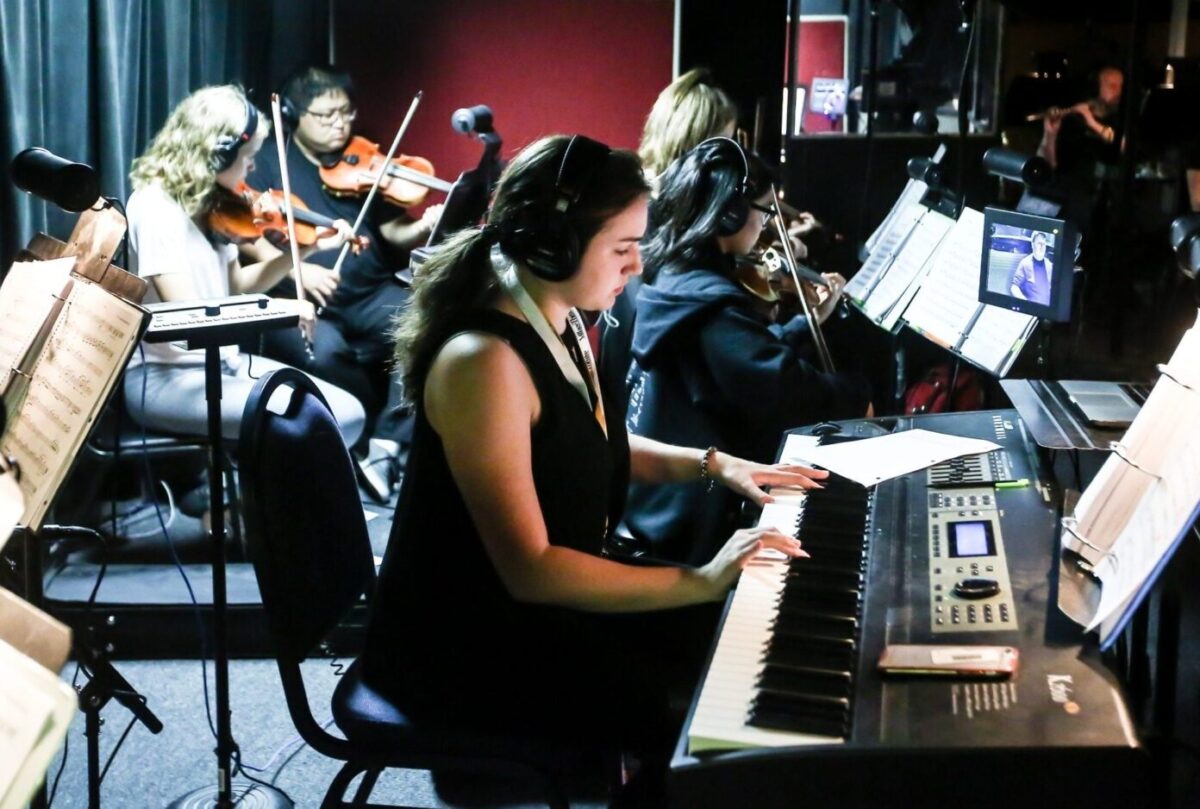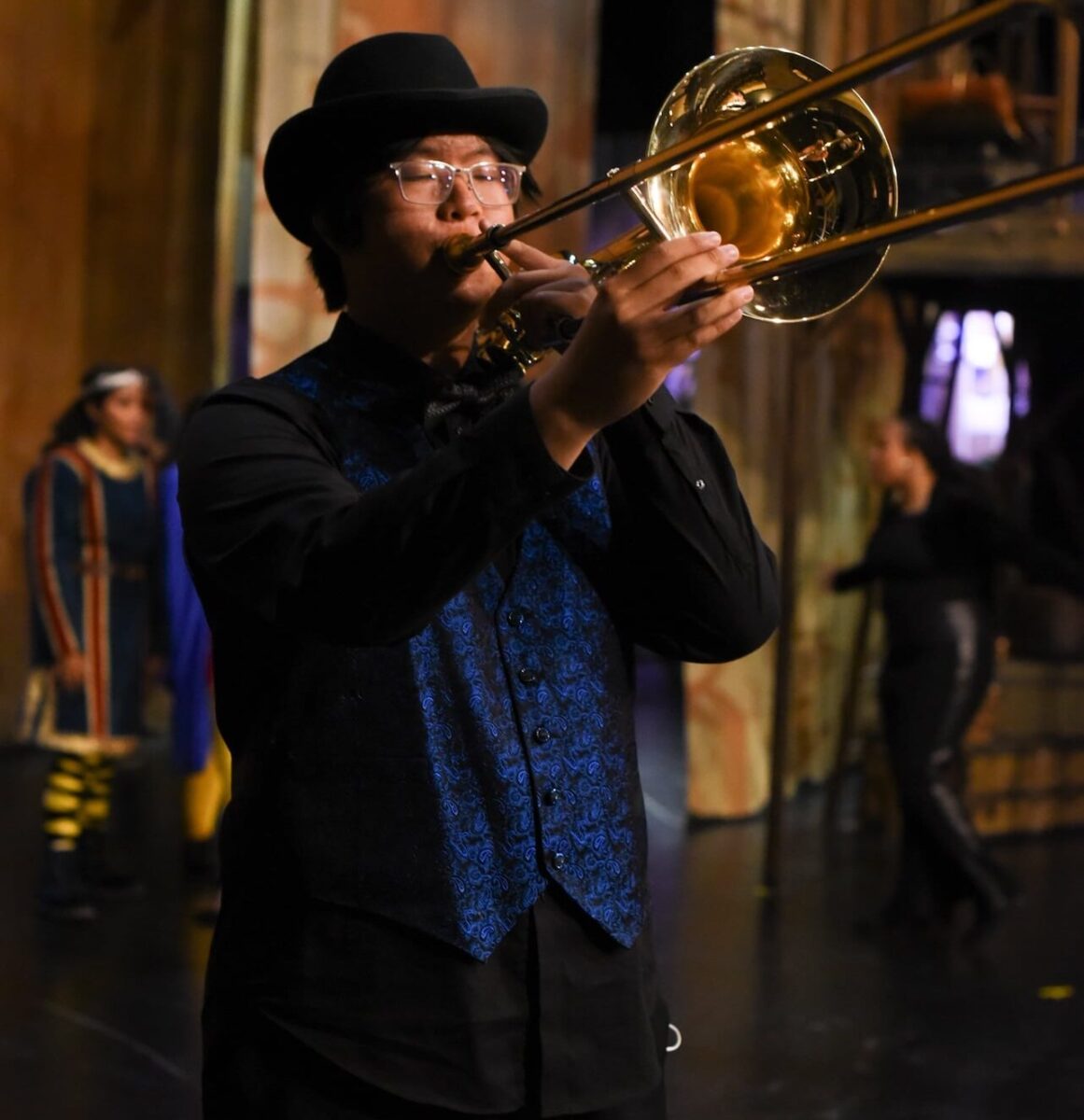 Program Overview
The UCLA PIT Orchestra Summer Institute is designed for student musicians that are proficient in their instrument and have a passion for playing in a musical theater production pit orchestra. Students will rehearse with the musical theater ensemble and artistic team during rehearsals and take courses such as music, score/ script analysis, sight reading boot camp and master classes with industry professionals. These experiences will prepare students to perform in the culmination of a fully- staged musical.   
On-Campus (Commuter)
As a commuter, housing contracts are not available through UCLA Housing Department, however, the UCLA Summer Hostel that is located on the residence hill provides housing options for all registered UCLA Summer Sessions who are 18 years of age or older. For those who will not securing housing on campus, it is expected that students who fall into this category will commute to class daily.
Schedule
July 21st-August 3rd, 2024
Grades and Transcripts
Program participants will earn units of credit on a letter-grading basis and will be recorded on an official University of California transcript. Please note that official transcripts are not automatically sent to students. To request a transcript, please contact the UCLA Registrar's Office.
Coursework
Music 50; 2 units Theater 50; 2 units
Requirements
Applications are reviewed and admission to the program is granted on a rolling basis starting February 15th. Applying prior June 1st is highly recommended.
The UCLA Pit Orchestra Summer Institute welcomes passionate high school musicians dedicated to advancing their pit orchestra skills.
All applicants must be proficient on their respective instruments. A solid understanding of instrument technique and performance is required. Excellent music reading skills are essential to playing in a pit orchestra. Applicants should be able to sight-read music accurately and adapt to various musical genres and styles. Previous participation in a pit orchestra, either within a school or community theater setting, is a prerequisite.
Applicants will be required to provide the following during the online registration process:
Submit one to three video files (no longer than 10 minutes each) of performance work that demonstrates you're playing in the following areas: musical theater pit orchestra or ensemble performances. In your video submissions, please be sure you are highlighted.
For each file, you must include a PDF explaining the context of each piece and any other relevant information.
Submit a video file of you playing an excerpt from the show. Excerpts for each instrument can be found in the Something Rotten Google Folder below. If you are auditioning for a book that involves multiple instruments, you must play the excerpt for each instrument. However, if you are just a flute/piccolo player for example, then only submit the excerpts for those instruments. The same applies to clarinet, alto sax, tenor sax, trumpet, flugelhorn, drum set, and auxiliary percussion.
We encourage you to showcase your highest level of playing proficiency on your strongest instrument.
Please share these files with dadams@tft.ucla.edu
Audition Excerpts for Something Rotten Google Folder
Applicants must play one of the following instruments:
Acoustic Bass, Electric Bass
Drums – Drum Set, Bell Tree, Cowbell, Djembe, Finger Cymbals, Mark Tree, Shaker, Small
Woodblock, Suspended Cymbal, Tambourine, Triangle, Wooden Rattle (please circle)
Guitar 1 – Archtop, Nylon String Guitar, Solid Body Electric
Guitar 2 – Solid Body Electric, 6-String Acoustic
Keyboard 1
Keyboard 2
Keyboard 3
Reed – Flute, Piccolo, Clarinet, Alto Sax, Tenor Sax (please circle)
Trombone
Trumpet – Flugelhorn, Piccolo Trumpet in A (please circle)
Violin
Participants are expected to bring their own well-maintained instruments, equipped with necessary accessories.
Additional Instrumental Guidelines and Information:
The Drum part may be divided amongst two players. One player on drum set and the other player on auxiliary percussion. Large equipment may remain on UCLA campus in secured facilities in the UCLA Theater Department.
The Keyboard parts are orchestral enhancements utilizing the RMS Keyboard technology. Keyboard players must learn the RMS Keyboard program. The RMS Keyboard resource is a computer program with all the keyboard sounds required by many musicals.
The Keyboard 1 part is the primary keyboard book and usually played by the conductor. There are about 25 different sounds with close to 80 patch changes in this book. Other instruments in the programming include various EP's, B3 Organ, Harpsichord, Celeste, Glock, Marimba, and even a Hurdy Gurdy to name a few. The keyboard 1 part is open to advanced keyboardists. To run RMS Keyboards, you will be required to have a Macintosh computer with at least 2GB of RAM, a dual core CPU, sound card and a minimum OS of Windows 7 or MacOS 10.13A.
The Keyboard 2 part is challenging to play and heavily programmed with close to 100 unique patches and over 250 patch changes. Some of the patches include Strings, Medieval instruments, Piano, Harp, pitched and auxiliary Percussion, as well as several woodwind and brass instruments. An advanced player is required to navigate the playing and programming in this book. To run RMS Keyboards, you will be required to have a Macintosh computer with at least 2GB of RAM, a dual core CPU, sound card and a minimum OS of Windows 7 or MacOS 10.13A.
The Keyboard 3 part is also heavily programmed with over 250 patch changes and is mostly orchestral in nature. The programming consists primarily of strings and is augmented by several other orchestral instruments namely percussion and various woodwinds. An advanced player is required to navigate the playing and programming in this book. To run RMS Keyboards, you will be required to have a Macintosh computer with at least 2GB of RAM, a dual core CPU, sound card and a minimum OS of Windows 7 or MacOS 10.13A.
The Reed part can be divided amongst 3-4 players if you are not a reed doubler. For example: the parts can be divided as a flute and piccolo player, a clarinet player, an alto sax player and/or a tenor sax player.
Video Tips
Please record using LANDSCAPE mode (horizontal) if possible, and do not film with a bright light behind you. Please be sure we can see you playing your instrument (eye level is best). We are not looking for professionally recorded videos, but please try to make sure you are in the frame and audible so we can best assess your talent.
Program Eligibility
9th-12th grade in Spring 2024
Ages 14-19
Grading Basis
Students will receive a letter grade upon completion. See University Credit, Grades and Transcripts for more information about academic credit.
Financial Aid and Scholarships
Qualified students attending grades 8th-11th in Spring 2024 in the state of California may be eligible for Summer Scholars Support, a need-and merit-based scholarship offered by the UCLA Summer Sessions Office. A limited number of full and partial scholarships are available to support enrollment in SCIP/eSCIP, one Summer Course, or a Precollege Summer Institute.
Summer 2024 deadline to apply: March 15th
Award decisions announced: April 22nd
For questions or concerns, please contact us directly at: TheaterSummerInstitutes@tft.ucla.edu 
June 1, 2024
Application deadline
June 15, 2024
Enrollment Deadline
Sessions
July 21st – August 3rd, 2024